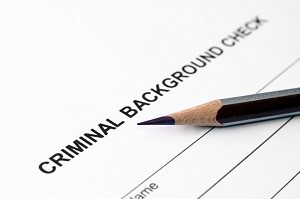 The adage goes, "What's good for the goose is good for the gander," but apparently, in the District of Columbia, what's good for taxicab drivers isn't necessarily good for their law enforcers.
In an interview conducted last Thursday, Ron Linton, the Chairman of the Taxicab Commission, admitted that he had never done a background check to determine whether hack inspectors had any criminal records. Hack inspectors are the men and women who are charged with enforcing the laws that govern the taxicab industry.
Hack inspectors don't have to have their District of Columbia criminal records searched even though the cab drivers that they enforce are required to submit to a background check every two years.
This absence of background checks for hack inspectors has been going on despite the fact that cab drivers are required to submit to background checks every two years.
Chairman Linton explained that he hadn't performed background checks on hack inspectors because he had relied on the Department of Human Resources (DHR) of the District to conduct background checks when they hired these government employees.
Fox 5 exposed last Thursday that criminal records don't seem to be an issue for the hiring of hack inspectors as one among the 13 hack inspectors of the District has been arrested several times for assault and theft since the early 1980s. In fact, the particular hack inspector has thrice served prison time for robbery.
The disparity in the checking of criminal records becomes even more obvious when the rules and regulations governing those who want to drive a cab in the District of Columbia are considered.
Anyone who wants to be a cab driver in DC has to agree to undergo a background check, has to be fingerprinted, and has to have his or her picture taken. Then, if the applicant passes his or her background check, it has to be undergone again every two years after that.
Furthermore, the form that an applying cab driver must fill out contains questions that ask if their license had ever been revoked and if they had ever been arrested.
But there are no such requirements for hack inspectors who supposedly hold a position of authority over cab drivers.
Of course, cab drivers are outraged.
"That's ridiculous," opined taxi driver Kebede Zegirgef as he waited for passengers outside the Willard Hotel. "That's not the way it should be."
He said that time after time, taxi drivers had to undergo background checks and every document that they presented had to be accompanied by supporting documents.
Sirak Medhin, another cab driver, feels the same way and says the lack of a background check for hack inspectors surprised him. "If they are criminals they are going to hurt you. They don't care."
Linton tried to explain the disparity by saying that he did not have authority to look into individual applicants' background. However, he also added that after coming into knowledge of the case of the hack inspector who had a lengthy criminal record, he said he would propose to be given the authority not to hire hack inspector applicants with criminal records.
At the moment, the hack inspector in question has not been suspended, but an investigation on how he was first able to obtain his job in 2009 is ongoing.
Actually, anyone who applies for a city job has to complete a criminal disclosure form and reveal any criminal records from the past ten years.