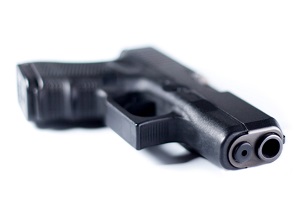 South Carolina state agents say 136 people have been stopped from buying guns because a background check showed they had been ruled mentally incompetent by a court.
The State Law Enforcement Division said agents have also rescinded 132 concealed weapons permits from those ruled mentally incompetent.
A state law passed in 2013 requires probate courts to report all cases when a judge deems a person mentally incompetent or involuntarily committed to a mental health facility. The information is routed to a federal database. Those in the database are not allowed to purchase a firearm. The report includes names of individuals from the last 10 years. State courts gave officials until August to submit its past decade's records
The law was prompted by the arrest of a woman with a documented history of mental illness. In 2005, she was accused of threatening the president. Charges were later dropped because she was deemed mentally incompetent. She was ordered to undergo treatment. Then, in February of 2013, she was taken into custody for carrying a gun at a Charleston school. She had pointed a .22-caliber hand gun at a school administrator but the gun did not fire because the ammunition was not loaded properly.
Since the law went into effect nearly 46,000 entries have been submitted by the State Law Enforcement Division to the Federal Bureau of Investigation's national database. The database is used to conduct background checks for gun purchases.
A total of 21 out of state gun purchases were prevented and more than 100 concealed weapons permits were terminated.
South Carolina Representative, Leon Stavrinakis of Charleston who co-authored and sponsored the law, said it was satisfying to hear so many possibly unstable people that would be purchasing weapons were stopped.
The head of the South Carolina's chapter of Moms Demand Action for Gun Sense in America, Erin Dando, said the state's success in submitting the mental health records into the federal database should serve as a model to other states.
It is estimated that five to 10 people interested in purchasing a firearm are turned down every week in the city of Ladson because of background checks. Shop owners are not aware of the circumstances of why a person is turned down. The database only states a simple 'yes' or 'no' when a name is run through the system.
Records of every individual considered mentally incompetent by a court are not submitted to the database by every state. The law cannot and is not intended to stop an individual from purchasing a gun for exhibiting signs of a mental illness; a person must be deemed insane or have been committed.
County probate courts in the state have worked aggressively to make sure all of their cases were submitted to the State Law Enforcement Division before the mandatory deadline.
A total of 6,800 records dating back to 2003 have been submitted by Charleston County. It will continue to send records as new cases arise.
Charleston has about 23 cases per week in which individuals are found to be mentally ill, preventing them from purchasing firearms.