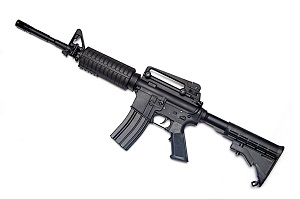 Twenty years ago, a law requiring gun buyers to undergo and pass background checks was created. Licensed firearm dealers in several states in the country are the ones who conduct these checks. However, various states such as Alaska fail to share relevant data about individuals who are barred from legal possession of firearms due to mental illnesses. This was revealed in a report that was based on the latest data gathered by the Federal Bureau of Investigation. Unfortunately, any failures in sharing these important records leads to alarming gaps in the database that was intended to prevent unlawful individuals from owning firearms.
In November 30, 1993, President Bill Clinton signed the "Brady Handgun Violence Prevention Act", which requires anyone who wishes to purchase firearms to first undergo a background check from a licensed dealer in the country. It is only after the buyer obtains an approval from the NICS  that they will be given the approval to purchase a firearm. The entire process takes only a matter of seconds to complete. It is worth noting, though, that the system does not contain a sufficient amount of data to give authorities the assurance that those who are barred from owning firearms remain blocked. Hence, this is an alarming issue that the general public should be concerned about.
At present, the latest data provided by the Federal Bureau of Investigation shows that Mayors Against Illegal Guns has provided an update of its Fatal Gaps map that is available online. This aims to depict how each state in the country is complying with the policy of reporting any mental health records while making sure that certain individuals still remain blocked from purchasing guns. The people who are barred from firearms possession include mentally ill people, domestic abusers and felons. In the data released by the FBI last month, there were records obtained since May 2013 that show the NICS continues to have incomplete data. On the other hand, approximately a million additional records were submitted to the database from October 31, 2012 to May 31, 2013, and a massive percentage of such data were from New Jersey and Pennsylvania.
According to Michael R. Bloomberg, Co-Chair of the group Mayors Against Illegal Guns, the Brady Bill served as an important means of preventing unqualified individuals from possessing firearms, although there is still so much to improve on before its goals may be attained. Moreover, at least 33 Americans die because of gunshots each day, and those who use firearms illegally are often able to obtain them due to failures in the background check system.
Boston Mayor Thomas M. Menino added that the failures in the background check system gives many individuals the ability to buy guns even if they might be a danger to the public and themselves. He further urges the state and federal agencies to do their best in submitting updated mental health records to the database to prevent violent tragedies.