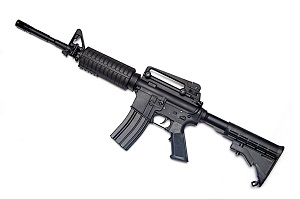 An employee of the Parks and Recreation Department for the city of Denver, CO was arrested on Monday, February 24, for attempted murder.
Damion Baca, 33, was taken into custody during a traffic stop and now stands accused of participating in a drive-by shooting that left a local man injured. Baca also has an extensive prior criminal record, but Denver officials are unable to explain how he was nonetheless able to pass the numerous background checks required for city employees.
The drive-by shooting took place in December of last year. Leaning out of the passenger side of a vehicle, Baca allegedly fired numerous shots at a group of people standing behind their home near Vine Street, leaving a 24-year-old male hospitalized with six bullet wounds.
A second, similar drive-by shooting in January of this year resulted in no injuries, but led police to stop a silver Lincoln Continental that matched witness' descriptions. Baca was found among the vehicle's passengers, all of whom were released for lack of evidence. However, officers subsequently searched the home of another passenger, finding illegal shotguns and rounds of handgun ammunition that were collected as evidence.
The victim from the December shooting later positively identified the silver Lincoln Continental, and a warrant was put out for Baca's arrest. The Continental, again carrying Baca as a passenger, was stopped by Denver police this past Monday, and he was apprehended. He is currently in jail on $100,000 bond, and is on paid leave from his city job.
City Employee with a Long Rap Sheet
Baca has been doing part-time work for the Denver Department of Parks and Recreation since 2010, and began working as a full-time employee for the city last year. He also has a lengthy criminal record and has admitted to having been affiliated with the Eastside Oldies 13, a Denver gang.
His criminal record includes an arrest in Denver in 2001 for menacing, a charge for which Baca was sentenced to a three-year prison term. His Colorado rap sheet also includes arrests for endangerment, drugs, assault, and violating the terms of his parole.
City officials are mystified as to how Baca was able to remain on the city payroll despite the numerous criminal background checks employees undergo. The checks conducted on Baca failed to raise any red flags, despite his Colorado state criminal record, including his time spent in the state penitentiary and his parole violations.
Problems with Inconsistent Background Check Procedures
The Denver city government has begun an investigation into how a convicted felon could have slipped through the cracks to become a city employee. Officials suggest that the background check procedures conducted by the city have been too inconsistent, changing repeatedly throughout recent years.
With the procedures and responsibility for background checks often left unclear, the city's human resources department was never alerted to Baca's criminal record. The city of Denver's review of how it conducts criminal background checks remains ongoing.